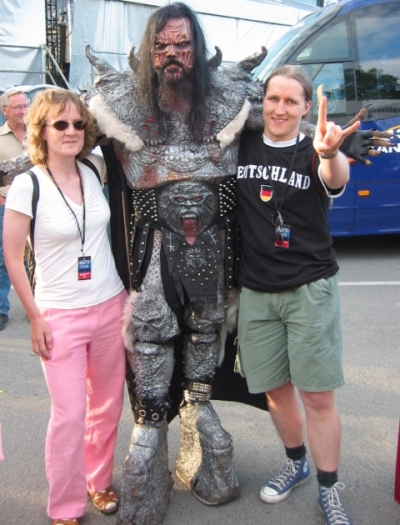 I finally found someone with a worse skin problem than what I ever had!
(And no, I don't mean my wife who is also in the picture!)
Tapio's Home Page
Contact Information
Tapio Keihänen
Kivipyykintie 1 A 3
FIN-00710 Helsinki
Finland
Mobile phone: Ask by e-mail, no prank calls please

E-mail: dio@iki.fi


My life's filled up with my wife Elina, our three daughters Salla, Mira and Sini, as well as our cat Rapsu. A big part of my life goes to my main hobby, administrating my Ronnie James Dio pages. I'm collecting rare recordings from Ronnie - if you think you can help me with that, please check out my wants lists! I ride my bicycle actively, sometimes with all the kids too! I've also got an antique Fiat 600 car to restore - some old photos of it can be seen here.
I'm working as a project manager at an international data security company, F-Secure Corporation.
I've noticed that I try to generate lists of all the records I have (and what I don't have yet), all the movies I've seen and all the concerts I've attended. If, for some strange reason, you want to see those lists as well, I've made a page where you can browse through them. As roughly 97.898% of the Internet users, I've also created a link list of pages I frequently visit.